Are you ready to embrace the timeless charm of the mid-century modern era? Inspired by the picturesque town of Pacifica, California, we are thrilled to introduce the newest addition to the THERESA DELGADO Collection: the Pacifica Silk Scarf 35. This essential women's accessory captures the essence of Pacifica's mid-century modern design in a beautiful and classic black and white color scheme. Get ready to elevate your style with this versatile 35x35" silk scarf, meticulously crafted to offer you a luxurious touch and effortlessly elegant look. Retro Meets Timeless Picture this: a scarf that seamlessly combines retro charm with timeless sophistication....
---
• New Silk Scarf • Travel Guides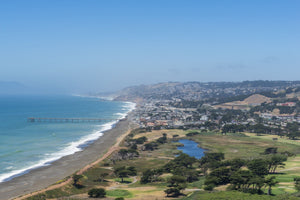 Nestled along the majestic coastline of California lies a hidden gem that captures the essence of an era gone by. Pacifica, a charming coastal town just a stone's throw away from San Francisco, beckons visitors with its breathtaking natural beauty and captivating mid-century design. As we dive into the mesmerizing tale of Pacifica, we'll also unravel the inspiration behind the Pacifica Silk Scarf 35, a stunning accessory that pays homage to the town's mid-century modern style. A Journey Through Time Pacifica is a place where time seems to have stood still, preserving the spirit of a bygone era. Its picturesque...
---
Step into the world of exquisite fashion and experience the mesmerizing allure of the Ojai Silk Scarf 35. Inspired by Ojai's breathtaking Pink Moment, this essential women's accessory combines a retro design with beautiful hues of pink to create a stunning, versatile must-have that will turn heads wherever you go. With its versatile 35x35" size, 100% 6A-grade Mulberry silk, eco-friendly dyes, and meticulous craftsmanship, this scarf is more than just an accessory – it's a work of art that adds a touch of luxury to any outfit. Timeless Beauty and Unparalleled Craftsmanship Indulge in the unparalleled craftsmanship of the Ojai...
---
• New Silk Scarf • Travel Guides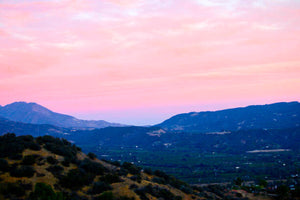 Nestled in the heart of Ventura County, California, lies a hidden gem that bewitches visitors with its natural allure and undeniable charm. Ojai, a small city embraced by rolling hills and embraced by the majestic Topatopa Mountains, captivates the senses in every way imaginable. From its rich cultural heritage to its thriving artistic community, Ojai is a place that lures wanderers seeking a sanctuary of beauty and tranquility. And if you're lucky enough to witness the awe-inspiring phenomenon known as the "Pink Moment," prepare to be enchanted beyond words. A Tapestry of Natural Splendor Ojai boasts a breathtaking tapestry of...
---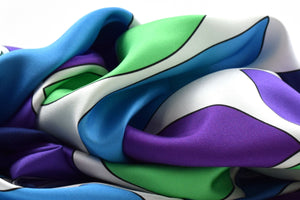 The Perfect Finishing Touch for Your Wardrobe Are you ready to take your style to the next level? Introducing the Half Moon Bay Silk Scarf 54, the essential women's accessory that effortlessly adds a touch of sophistication to any outfit. This retro-designed scarf, adorned with beautiful hues of blue, green, and purple, is the ultimate statement piece you've been searching for. Uncompromising Quality and Craftsmanship At THERESA DELGADO, we understand the importance of exceptional quality. That's why the Half Moon Bay Silk Scarf 54 is crafted from 100% 6A-grade Mulberry silk, known for its lustrous sheen and unmatched softness. Handmade...